Under Armour/Heart and Sole Redwood Empire Athletes of the Week!
In an effort to recognize the hard work and achievements of the Track & Field athletes throughout the Redwood Empire,
we have joined with Under Armour for the Redwood Empire Athlete of the Week award!
Each week, one boy and one girl will be awarded a custom silk-screened tech shirt in recognition of that week's accomplishments.
Stay tuned here and on our Facebook page for the winners each week
Athletes of the Year
Rylee Bowen, Sonoma Academy, junior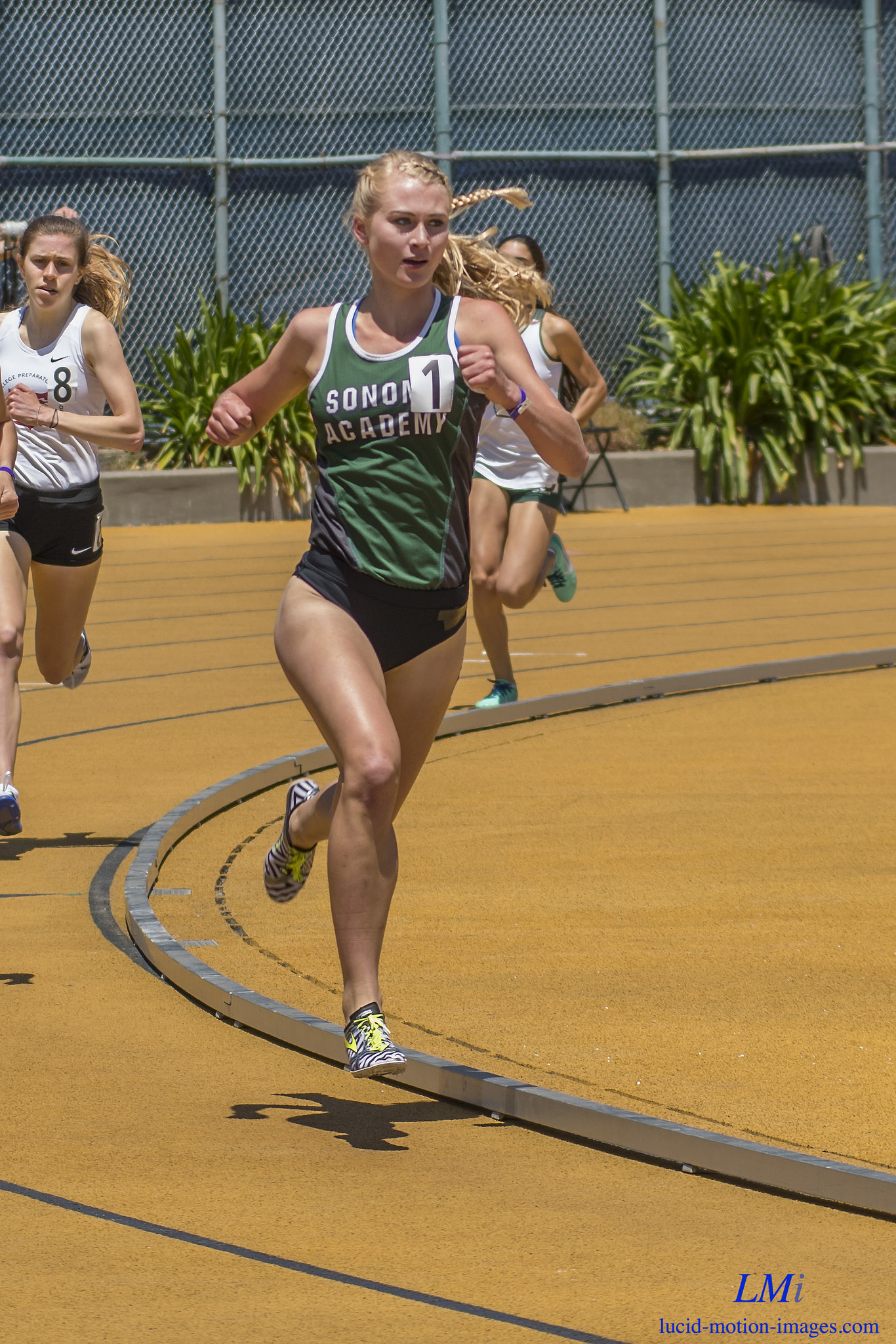 Already etched in the Empire record-books, Bowen continued to grow her legacy during her senior campaign. With races spanning the country, Bowen proved she was one of the top distance runners in the USA, and clearly deserves Co-Athlete of the Year honors for the Redwood Empire.
While she more than earned her spot as Co-Athlete of the Year from her regular-season performances, Bowen's track season actually began in January, with a 5:01.64 indoor mile. That converts to a sub-5 1,600m, a mark that only 17 girls from the Empire have ever broken. A few weeks later, she bettered that mark with a 4:58.60 indoor mile. And it only got better once outdoors came around.
Bowen made waves across the nation when she competed at the Texas Relays at the end of March. She first won the 2,000m steeplechase - an event where she already holds the CA State Record - by a whopping 12 seconds. She doubled back the next day in the 1,600m, where she finished third in a national field, clocking 4:56.32.
Bowen competed at three more high-performance meets in the month of April. Competing at "The Home of National Records," Bowen placed 3rd in the Arcadia mile, clocking 4:48.92. That converts to a 4:47.25 for 1,600m, a mark that only Bowen, Julia Stamps, and Sara Bei have ever bettered. Both Stamps and Bei have National Championships to their names. She ran even faster shortly thereafter, winning the Mt. SAC mile in 4:48.44. The next day, she ran 2:11.91 in the 800m, finishing in 4th. But that mark tied her for 2nd on the All-Time Empire list, just two tenths of a second off the Empire Record. She capped off the month of April competing against collegiate and post-collegiate athletes at the Brutus Hamilton Invitational at UC Berkeley, clocking 4:35.56 for 3rd in the 1,500m.
The post-season started off as expected, with Bowen dominating the CMC Championships. There she won the 400m, 800m, 1,600m (new meet record), and 3,200m, an historic performance. At the NCS 1A meet, Bowen again captured the 800m (2:19.46) and 1,600m (4:59.46), and also placed 2nd in the 3,200m (11.19.82).
Then came the NCS Meet of Champions, where, for the third year in a row, Bowen captured the 1,600m title. For good measure, she also raced the 800m, placing 6th in the Section Finals.
As was the case last year, Bowen competed well in the 1,600m at the State Championships, though couldn't quite capture the big one. She finished 4th, as she did in 2016, with a time of 4:53.92 - all the more impressive with the temperature in the 90's.
All told, Bowen ends the 2017 season with another North Coast Section title, another State Medal, 4 more CMC Championships, and her name all over the Empire Record-Books. She now has run 8 of the 28 fastest 1,600m's in Empire History - only National Champs Bei and Stamps join her on that list - and had a season's best 1,600m over 10 seconds faster than the next Empire athlete this year. She also led the Empire in the 800m - her 2:11.91 is tied for 2nd all time and was 3rd in the 3,200m. While Bowen will certainly be hungry for that State Title and an Empire Record or two her senior year, there's no question that this season was one for the record books!
Jaymes Tischbern, Montgomery, junior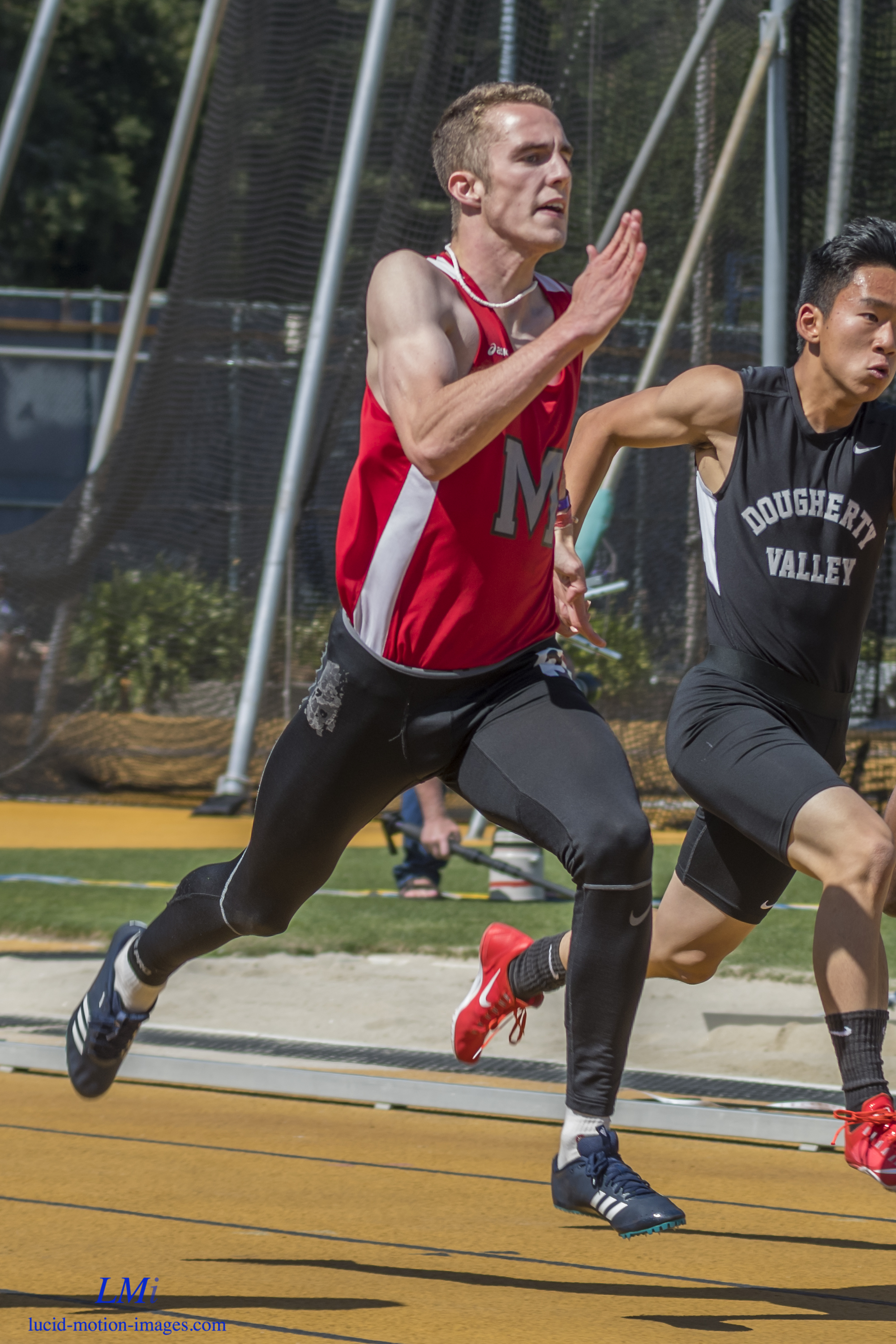 From season's gun to the tape, Tischbern was consistently the class of the Empire short-sprinters, and an appearance at the State Championships secured his position as our Athlete of the Year.
Tischbern's season started with a bang at the Big Cat Invitational. Despite windy and wet conditions, Tischbern immediately cemented himself in the annals of Empire sprint history, clocking 11.00 to win the season opener by over a third of a second. That put him into the top-10 Junior's All-Time, and top-20 of all grades for FAT times. He also served relay duty, anchoring the Viking's 4x100m relay - as he would throughout the season - finishing in 3rd. He continued his winning ways in the early season, winning the 100m and 200m at the Windsor Relays and then sweeping the non-traditional 150m and 300m at the Montgomery Interleague.
Tischbern's first real test came at the Stanford Invitational. There he had the chance to compete against some of California's top sprinters, pushing him to an 11.14. While slower than his Big Cat mark, this was done into a slight headwind, while the 11-flat was run with a big 2.4 m/s tailwind.
Then the floodgates opened. The Santa Rosa Twilight Invitational saw massive winds and huge downpours, but that didn't put out the fire Tischbern set on the track. He became one of only 37 Empire athletes to ever break the 11 second barrier, clocking 10.97 (wind: 2.7m/s) to win by nearly two-tenths, breaking the Twilight meet record. He then won the 200m by over half a second, running 22.98 in a ridiculously windy 5.3 m/s.
In the final invitational of his season, Tischbern again dominated the sprints, winning the 100m and 200m at his home track for the Viking Invite. There he ran his season's best 100m of 10.85 (wind 2.2m/s) to vault into a tie for 10th All-Time in the Redwood Empire. While the 200m wasn't as big in an historical sense, he still won by over half a second in 22.41 (2.7m/s).
The championship season started with a shock, as Tischbern lost the NBL 100m, finishing 2nd. But he bounced back to win the 200m. He won the 200m again the following week, running 22.62 into a huge -3.2/s headwind, to capture the Redwood Empire Championship. He also took runner-up honors in the 100m, and ran legs on Montgomery's 4x100m and 4x400m relays. That led him to the NCS Meet of Champions, where a top-3 finish would earn athletes a spot to the State Championship. There he ran the fastest wind-legal of his career, clocking 11.13 (+1.3 m/s) to take 6th against the best sprinters the NCS has to offer.
Then came the 200m. Tischbern shocked everyone with a PR of 21.94 (+1.0m/s) to take silver and earn a spot to the State Championships. That ties him for the 6th fastest 200 runner from the Empire ever with Fully Automatic Timing, and 19th all conditions. As if things couldn't get better, Tischbern again rose to the occasion at the State Championships, again setting a PR in the 200m, where he clocked 21.74 (1.2m/s) for 10th place. Unfortunately only 9 athletes make the finals, but still it was quite the way for Tischbern to finish out his junior season. He now sits in a tie for the 6th fastest 200m runner ever from the Redwood Empire, and he's still got a season left. After this year, we can only expect big things for Tischbern's final year in a Viking uniform!
Kirsten Carter, Santa Rosa, junior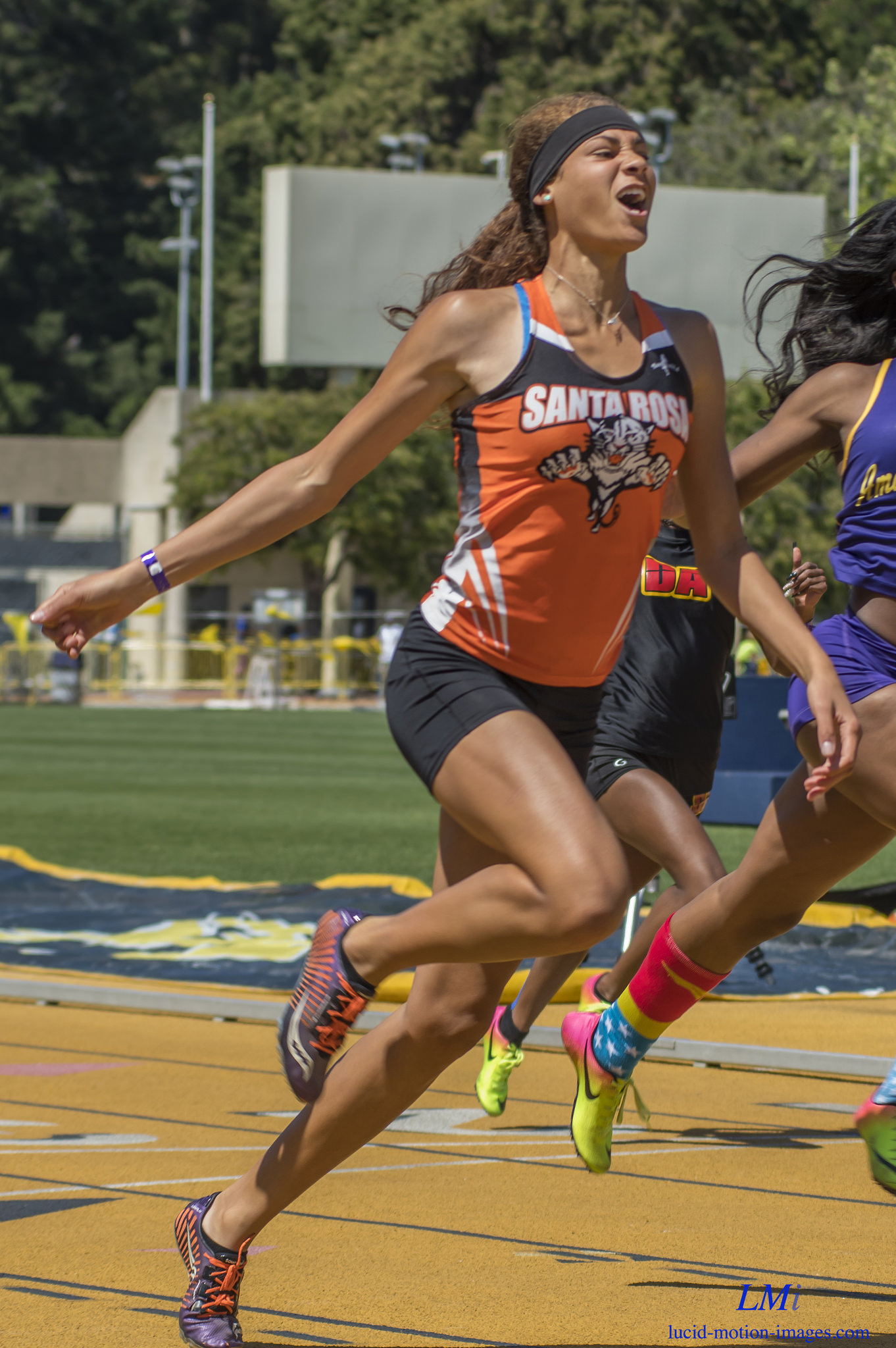 Carter entered the season as the fastest sprinter in Redwood Empire history, so it was going to be quite difficult for her to step up this year. But Carter rose to the occasion yet again, solidifying her dominance in Empire sprinting history to be a clear choice for co-Athlete of the Year honors.
Starting the season off at her home track's Big Cat Invite, Carter won the 100m, 200m, and long jump. She won the 100m by half a second, with her 12.23 (wind: +2.3m/s) faster than anyone else in the Empire was able to run all year. In fact, only 4 other athletes from the Redwood Empire have ever run faster. She won the 200m by a bigger margin, clocking 25.56 (+2.8m/s) to win by over a second, and her Long Jump of 17'8" won by nearly a foot. Despite being the opening meet, only one Empire athlete would do better than each of those marks as the season progressed.
Carter continued her dominance at the Windsor Relays, again winning the 100m, 200m, and Long Jump. The 100m of 12.44, run into a headwind of -2.3m/s, was faster than all but 4 other athletes in Empire history have ever run, her 200m of 25.41 (-1.7m/s) won by over 2 seconds, and her 17'10" Long Jump won by a foot, moving Carter to a tie for #3 on the All-Time Empire list for juniors. Not bad for her off event!
It was at the Santa Rosa Twilight Invitational where Carter elevated herself to new heights. Despite huge downpours and windy conditions, Carter broke the Empire Record in the 100m, clocking 12.02 with a wet and wind legal +0.9m/s, winning by over a second. No other athlete in Empire history has ever broken 12.10. While she didn't break the meet record in the 200m - a record she already owns - she dominated the field by clocking 24.94 while no other athletes were able to break 27. She also set a season's best 18'1.5" in the Long Jump, though again just falling shy of her own meet record despite winning by over two feet. The biggest surprise, however, might have been her throwing the discus, where she placed 4th in 90'10".
The last invite of the year, the Viking Invite, again saw Carter win the 100m, 200m, and Long Jump. Her 100m of 12.19 is a time only 3 other's in Empire History have ever bettered, and got her the win by a quarter of a second. A 25.11 clocking in the 200m got her the win by well over a second, and a 17'11" leap in the Long Jump was nine inches further than the next best.
The post-season started with a bit of a surprise, as Carter contested the Shot Put and the Discus at the NBL Championships. She threw 33'8" in the Shot Put to take second, and was third in the discus with a 97'7" toss. However she hit a big 121'9" throw in the trials, moving her into the top 30 All-Time for the discus. Not too shabby for a sprinter! Her main events went to form, with her easily capturing the 100m (12.24 -0.8m/s) and 200m (24.69 -0.8m/s). While the latter was over a half-second off her personal record, but still faster than any other athlete ever in Empire History. And it was similar sprint dominance at the NCS Redwood Empire meet. She won the 100m by over four tenths of a second, and the 200m by more than second. While the times weren't as fast as some of her others - she ran 12.26 and 25.02 - when you take wind into account they become especially impressive. Taking the -2.2m/s wind from her 100m into account, it is "worth" an 11.04 adjusted, slightly faster than her NBL winning mark. Though any way you slice it, Carter was clearly the class of the fields for the sprints. For good measure, she was second in the Discus with a 108' toss, outdistancing the NBL champ.
Carter finally ran into competition at the North Coast Section Meet of Champions. Finally having such competition pushed Carter to even greater heights. Her 100m performance was quite possibly the greatest sprint in girls' Redwood Empire history, as she clocked a ridiculous 11.89 to win the North Coast Section MOC crown. That's over a quarter of a second faster than any other athlete in Redwood Empire history. And while the 200m didn't result in a win - Carter took runner-up honors - it was similarly historic. Her time of 24.35 broke her own Empire FAT record, with only one other Empire athlete ever running within half a second of that mark.
Truly rising to the occasion, Carter did even better at the California State Championships. It took all she had to even make the state finals - clocking 11.78 with a strong 2.5m/s tailwind - as she made the finals by only 0.03 seconds. That time is the fastest ever clocked by an Empire athlete (getting old hearing that yet?!), though it was noticeably wind-aided. That set her up well for the final, where she outdid her seed to take 6th in a wind-legal 11.87 (1.1m/s). That make Carter the first girl from the Redwood Empire to ever medal in the 100m at the State Championships. And for good measure, she finished 8th in the 200m, clocking 24.95 (3.3m/s) after running 23.86 (2.6m/s) in the prelims. While she would have liked that prelim time in the final - it would have earned her a medal for 6th - it is still faster than all but three other athletes in Empire history, despite being only the 14th best time of her own career!
Any way you look at it, Carter had one of the most dominant seasons in Empire History, and is unquestionably the best short sprinter, owning all the top times on all the 100m and 200m Empire lists. And with one year to go, there's no telling what Carter can accomplish for the Panthers and the Redwood Empire.
NCS Meet of Champions
Robert Swoboda, Ukiah, senior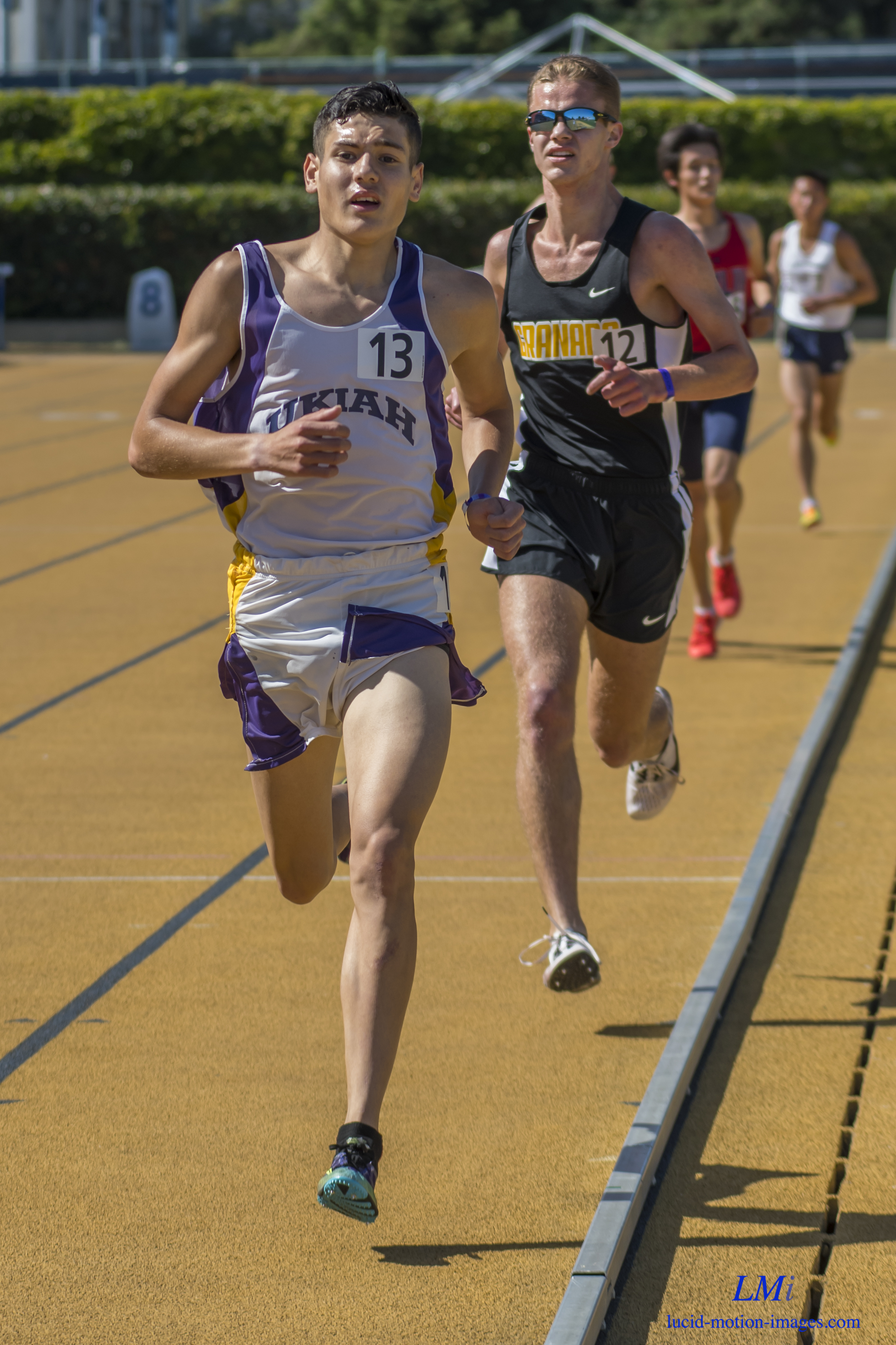 When the reigning State Champion is in your race, you know it's going to be fast. And in his last race as a Ukiah Wildcat, Swoboda took full advantage of the hot pace provided to end his HS career in style. Racing the 3,200m at the NCS Meet of Champions, Swoboda ran a breakthrough race to finish 8th in 9:21.13. Not only was it a huge PR for Swoboda, but it achieved his pre-season goal of taking down the Ukiah school record. Yes Ukiah has had a State XC Champion, but it's Swoboda who is the new Wildcat record-holder. And in the bigger picture, Swoboda surged into the record-books, and is now the 14th fastest 3,200m runner in Redwood Empire history.
Kylie Olson, Rincon Valley Christian, junior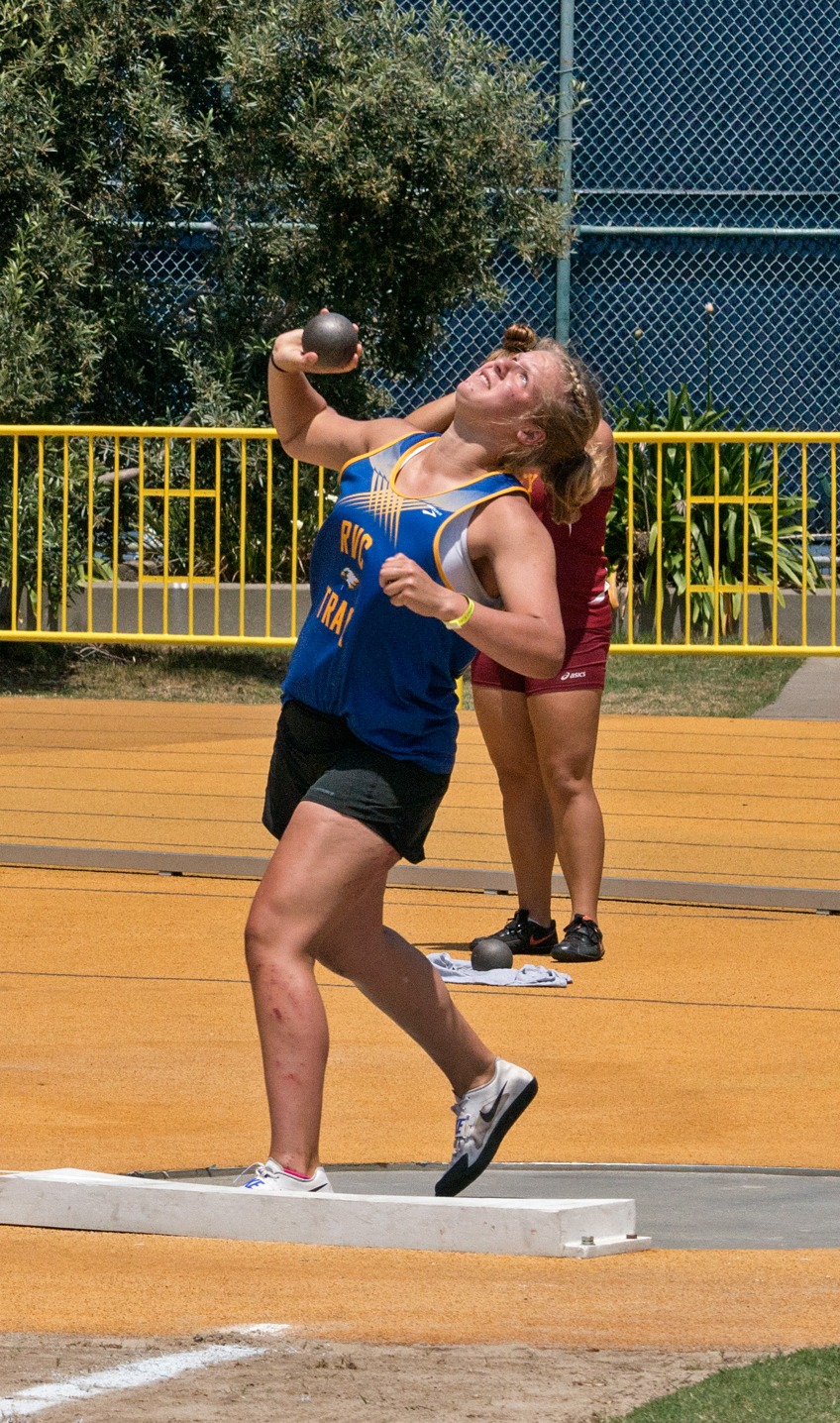 Save the best for last. That's exactly what Olson did this year, as she uncorked a 123'9" toss in the Discus at the NCS Meet of Champions. That throw earned her 5th place and a coveted NCS MOC medal, and was only 6 feet away from a trip to the State Championships. Not only is it the furthest throw of any Empire athlete this year, but it also moves Olson to number 18 on the All-Time Empire list, and third ever for the Coastal Mountain Conference.
For good measure, Olson also competed in the Shot Put at NCS MOC, throwing 32'11" for 14th. While not a standout throw, she proved in the discus that she'll be a major force to be reckoned with next year!
NCS 1A
Kelsey Lemoine, Middletown, sophomore
Lemoine showed she was a top local sprinter with her double-wins at the CMC Championships, but her performance at the Redwood Empire 1A meet moves her into some very fast company. There she captured the 100m title before taking second in the 200m, advancing to the NCS Meet of Champions in both of them. Her 12.62 to win the 100m puts her into a tie for 36th fastest ever in the Redwood Empire, and 5th-fastest among CMC athletes. While her 200m time of 26.84 doesn't make the all-time list, it breaks her own school record and still easily advanced her to the NCS Meet of Champions next week. And if all that wasn't enough, she also ran a leg on the 4x100m relay team that took 5th, helping Middletown to a 5th place team finish. Not too bad for a sophomore!
Remy Barbiero, Sonoma Academy, senior
Sonoma Academy may be best known for it's runners, but Barbiero is showing that the Coyotes can really hold their own in the field as well. Competing at the North Coast Section 1A meet, Barbiero again jumped 21 feet in the long jump - a feat only accomplished by two Empire athletes this year - as he captured the 1A title. He won by 3 inches, and was nearly 1.5 feet ahead of the next CMC athlete. He also impressed in the Triple Jump, where he went 41'0.5" - one of five locals to break 41' this year - to finish in 4th place. Unfortunately only 3 athletes qualify on, and he was a few inches off of that. (For good measure, Barbiero also placed 7th in the 100m, crossing in 11.39.) His attention now turns to the NCS Meet of Champions at UC Berkeley, where he'll get to jump against some of the top athletes in Northern California, and hopefully make some big marks in the sand!
NCS Redwood
Brian Schulz, El Molino, senior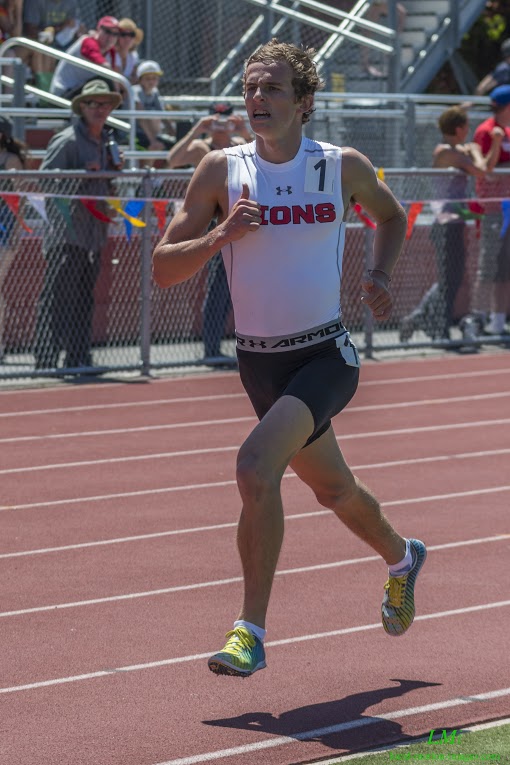 After a rocky SCL Championships that saw him DQ'd in the 1,600m before running away with the 3,200m, Schulz left nothing to chance at the Redwood Empire Championships. With the top-7 athletes qualifying on to the NCS Meet of Champions, Schulz didn't necessarily need to run to his limit. Yet that's exactly what he did. Despite missing much of the season from injury, despite the headache of SCL, despite no one within even 10 seconds of him, Schulz blasted one of the fastest times ever run by a Redwood Empire athlete. He stopped the clock at 9:09.47, becoming only the fourth athlete ever to break the 9:10 barrier. Already in rarefied air, Schulz has got to be thinking about sub-9, and he'll have a great opportunity next week at the NCS Meet of Champions. And, assuming all goes well there, he could do something very special one week later at the State Championships.
Assata Polk, Maria Carrillo, junior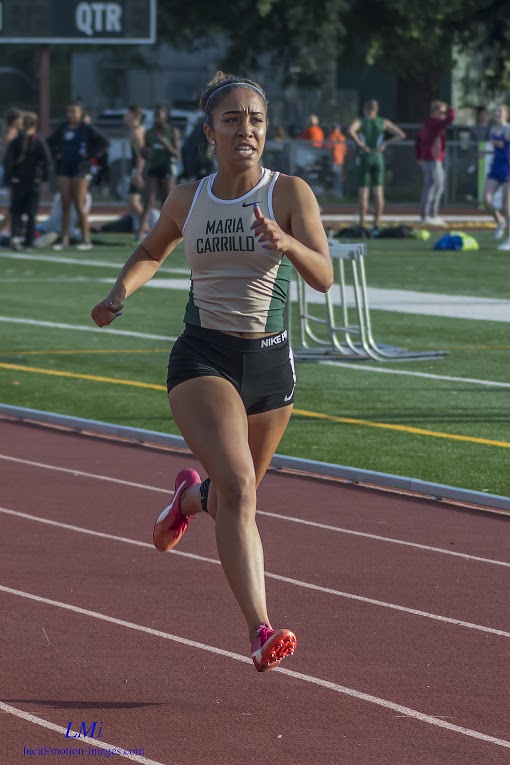 The Polk name is already known around these ovals thanks to her older brother's 47.21, but Assata is officially making a name for herself as well. Hot off a North Bay League title a week prior, Assata took the next big step by capturing the 400m title at the Redwood Empire Championships. And she didn't just win, she dominated, crossing the line over a quarter-second ahead of her teammate in second. Her time of 58.78 moves her to number 32nd on the All-Time Empire list, and is less than a half-second off the top-15. She certainly has a good chance to move up at NCS MOC next week.
As impressive as her individual performance, Polk played a key role on both winning relays as well. Her Pumas easily won the 4x400m relay, clocking 4:05.50 to win by over 5 seconds, but the big fireworks was in the 4x100m. They not only won by a ridiculous near-2 seconds, but also shattered the Empire Record. Their time of 48.64 chopped a whopping .46 seconds off the old mark, and makes the Puma foursome a real threat come NCS MOC. Three races and three titles makes for a mighty fine day for Polk, but to cap it all of, her Pumas added a team title for good measure!
North Bay League

Anna Hartmann, Cardinal Newman, senior
"A matter of inches" may sound small, but for Hartmann it was mere inches that led to a league title at the North Bay League Championships. There she had a back-and-forth competition in the Triple Jump with Montgomery's Emma Orosz, trading the lead multiple times, before finally unleashing a 34'11" to take the NBL title by a mere one-and-a-half inches. Added to her league title was a solid performance in the High Jump, where she cleared 4'8" before winning a jump-off for second place in the league. And for good measure she leapt 15'5" in the Long Jump to finish 5th and pick up 2 more points for Newman; all in all she scored more than half of her team's points at NBL!
Severin Ramirez, Maria Carrillo, sophomore
Competing against one of the few athlete to break 11 seconds in the 100m, Ramirez pulled off a a shock upset to win the North Bay League 100m title. There he set a new PR of 11.09 (wind +0.6 m/s) to win by a mere hundredth of a second. All the more impressive, Ramirez is only a sophomore, making that the fastest wind-legal time by an Empire sophomore ever. And while roles were reversed in the 200m where he took second, Ramirez still ran a very quick 22.57. All the more impressive, it was run into a big 2.5 m/s headwind! And if individual glory wasn't enough, Ramirez ran legs on both the 4x100m and the 4x400m, helping Maria Carrillo to a dominate North Bay League team championship.
Sonoma County League

Jack Fricker, El Molino, junior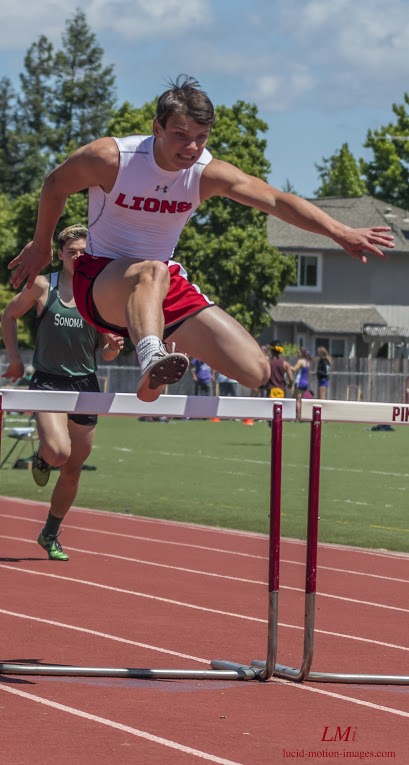 The last time El Molino won an SCL Championship, Fricker wasn't even one hurdle tall. But at this year's Sonoma County League Championships, Fricker cleared hurdle after hurdle to help his Lion's to their first league title in over a decade. He won both hurdles in dominating fashion; he won the 300m hurdles by nearly three-quarters of a second, and in the 110m High Hurdles only one other athlete could stay within 1.5 seconds of him. But dominating the hurdles wasn't enough for Fricker; he also starred in the field events, capturing both horizontal jumps. Those events were a bit closer, however. In the Long Jump, Fricker leapt 20'9.5" to take the win by half a foot. In the Triple Jump, while he was the only athlete to clear 41 feet with a 41'0.5" mark, he only won by 1.5". But close doesn't cut it, and Fricker successfully won all four events at the Sonoma County League Championships, with a team title to boot. Still a junior, one wonders what he could possibly do senior year to do one better!
Camille Leoni, Petaluma, senior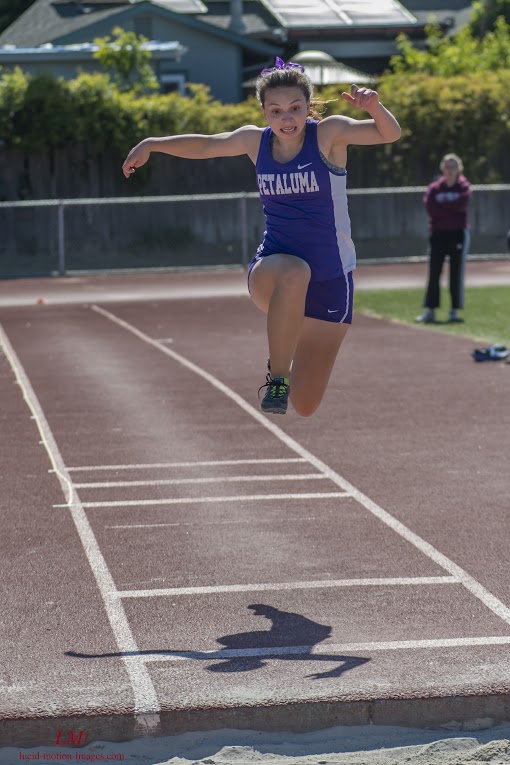 What's better, an individual league title or a team title? With a very impressive day at the Sonoma County League Championships, Leoni was able to experience both. As the yearly leader in the Triple Jump, it's no surprise that Leoni captured her first SCL title in that event. But while expected, her two-and-a-half-foot victory is nothing to take for granted. She soared to a 35'2.25" mark, break the 35-foot barrier again this year, a feat no other athlete has achieved this year. But that wasn't enough flying for the Petaluma senior, as she also soared to a 16'7.5" jump in the Long Jump, good for second place to a teammate. To complete the medal set, Leoni took third in the 100m dash, all in all scoring 24 points to help the Trojans to the SCL Championship.
Coastal Mountain Conference
Kate Bowen, Sonoma Academy, freshman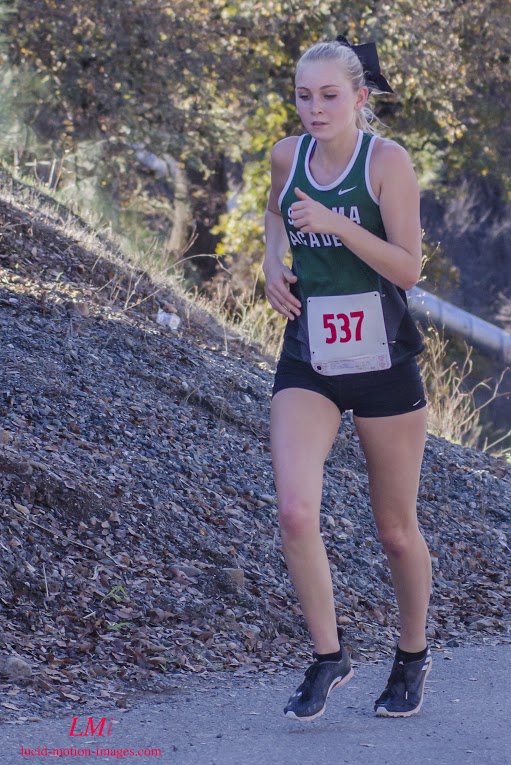 There's a new Bowen on the scene! While older sister Rylee has been making waves for year, Kate has done some incredible things during her freshman season. At the Coastal Mountain Conference Championships, Kate was a three-time runner-up (to her sister) to help her Coyotes win their league title. Far and away her strongest performance was in the 1,600m, where Kate blazed a 4:59.68, well under the old meet record her sister set two years ago. It also makes Kate the 5th-fastest freshman ever from the Redwood Empire. Worth noting is that every runner ahead of her on that list has at least one California State Championship to their name. And beyond just grade-level history, Kate is now the 15th fastest runner of all grades in the Empire, and second among CMC athletes.
After her 1,600m, Kate also took second in the 800m and 3,200m, advancing in all three distance races to the Class A meet this weekend. With that, NCS MOC, and the State Meet on the horizon, don't be surprised to see Kate make even more history before year's end. And then watch out for the next three!
Robbie Leng, Rincon Valley Christian, junior
Defending a league title is always a big deal. Doing so while adding another title, plus another second place finish, makes for one heck of a championship performance. Leng certainly had an impressive day at the Coastal Mountain Conference Championships, as he defended his 110m hurdle title, captured the High Jump, and took second in the Triple Jump. His 16.47 in the hurdles won by over a half second and is the fastest in the CMC this year. The field events were much closer, as he captured the high jump by just 2", and actually lost the Triple Jump on countback. (When two athletes have the same distance for their furthest jump, the tie is broken by the next furthest jump.) Leng now heads to the Class A meet, where he'll compete against the top small-school athletes in the region to earn a trip to the North Coast Section Meet of Champions at UC Berkeley.
Week Nine
Cooper Plattus, Maria Carrillo, sophomore
Only a sophomore, Plattus is soaring higher and higher in Empire history. At his final NBL tri-meet of the season, Plattus cleared and Empire-leading 13'10" in the pole vault, nearly a foot further than anyone else in the Redwood Empire this year. That jump put him into a tie for 3rd on the all-time sophomore list, sharing the spot with none other than Rene Loraine. For a refresher, Loraine went on to set the still-standing Empire Record at 15'9" back in 1995. While Plattus isn't quite there yet, he did land himself into 27th on the All Time list. But he certainly has his sights set much higher; he's not shy talking about a future Empire Record, and if his trajectory continues, he just may!
Maddie Call, Windsor, senior
Call is no senior to fast times and top placings, so it was more of the same for the Windsor senior at her last regular season NBL meet. Even more impressive, she was triumphant both on the track and in the field. She won the high jump by 2 inches at 4'8", took a close 300m hurdle race in 49.1, and obliterated the field in the 100m hurdles at 16.2. While none of the marks were super impressive by her own lofty standards, she currently sits at the top of the Empire list in the high jump, and third in both the 100m hurdles, and 300m hurdles. But don't be surprised to see those 3rds jump up as the post season gets underway. Call is the defending NBL champ in both hurdle races - she actually won the short hurdles in 2015 as well - and will be ready to up her game to try to retain her titles. There's no doubt that the post-season hurdling will be fierce!
Week Eight
Savannah Nied, Maria Carrillo, junior
The pole vault is an extremely technical event; learning to propel yourself through the air using a fast jump and a thin pole is not something that happens overnight. Yet Nied - though a junior - appears to have no pole vaults before this season, and now she's vaulted herself into the record-books.
At her Nied outclassed the field by over half a foot, vaulting to a 9'7" clearance. That mark solidifies her standing as second on the yearly Redwood Empire list, and moves her into 31st on the All-Time Empire List. One can only assume Nied will fly ever high as she gaines experience and her prep career continues!
Wes Methum, Rincon Valley Christian, senior
While most athletes are staying local until their league championships, Methum headed to Sacramento to face top challengers from all over NorCal, racing the 1,600m and the 3,200m at the Sacramento Meet of Champions. While not quite as fast as his Twilight (4:29.31) and Viking (4:30.3) performances, he first put up a very respectable 4:31.65 in the 1,600m, good for 11th in his section. But it was in the 3,200m where he made a big splash, finishing 12th in the elite field in a time of 9:32.04. That time is not only the fastest of the year for the Redwood Empire, but also moves Methum into 41st on the All-Time Empire List. And it's all the more impressive coming from a small-school athlete; one should note that Methum is now the 5th fastest ever from the Coastal Mountain Conference.
In addition to his Saturday exploits, Methum also won the 1,600m and placed 2nd in the 3,200m and 800m at his mid-week CMC meet.
Week Seven
Ruben Mehler, Windsor, senior
Four events, four wins. It was a pretty good week for the Windsor senior. First up, Mehler competed in a tri-meet with Rancho Cottae and Santa Rosa, where he absolutely dominated the throws. He put the shot 42'11", which was over 7 feet further than second place. In the discus he threw 138'10" to win by over 10 feet. As impressive as those were, he upped his game at the Viking Invitational, beating athletes from all over the region. He won a close victory in the discus, throwing 154'6" to win by just 2 feet, though he again handily won the shot put, throwing 46'10" to win by over 5 feet. Both marks are #1 this year in the Redwood Empire.
Aubrianna Tait, El Molino, senior
At the Viking Invitational, Tait ran her way into the record-books thanks to some very stiff competition. First up was the 100m hurdles, where she had to face an incredibly strong field that included previous Athlete of the Week Habibah Sanusi of Maria Carrillo. She came through the line second in 16.25, while four other athletes finished within half a second of her. That 16.25 mark is not only the second fastest in the Redwood Empire this year, but it skyrocketed her to 35th All-Time in the history of the Redwood Empire. But that couldn't compare to the excitement in Tait's signature event, the 300m hurdles. In a near photo-finish, Tait just out-leaned a competitor from Tam, clocking 46.92. That time ties the mark she set at the North Coast Section Meet of Champions last year, making Tati the 26th fastest in the history of the Redwood Empire. In addition to her two great races at Viking, Tait handily won both hurdles in her Wednesday tri-meet against Healdsburg and Sonoma.
Week Six
Alexia Onate, Montgomery, senior
Onate wasted no time putting the NBL on notice, as she swept the throws at the first NBL tri-meet, where Montgomery faced Maria Carrillo and Windsor. In the Shot Put, she threw 26'6.5" to win a close contest by 2 inches. But it was in the discus where the reigning North Bay League Champion really turned heads. With second place throwing 87 feet, Onate let loose a monster 116'11" for a ridiculous margin of victory. That mark is not only 9 feet further than she threw last year (and 17 feet further than her NBL winning throw), it also extends her lead at the top of the yearly Redwood Empire list. In also puts her into the top-50 ever in the Redwood Empire for the first time, slotting her in at number 40. With the season only midway through, one can only expect for the Viking senior to inch her way up the list as her final HS season progresses!
Nobel Schlueter, Casa Grande, senior
At the North Bay League final's last year, Santa Rosa scored nearly three times better than Casa Grande (118-42), but this Wednesday's NBL meet had a very different outcome, thanks in large part to Schlueter. There he competed in three individual events, and he won them all. In the field, he topped all comers with a 5'8" in the High Jump, tying him or 5th this year in the North Bay League. But it was in the hurdles where he really excelled. In the 110m High Hurdles, he won by nearly two seconds, clocking 15.3 hand-timed, the 3rd best mark in the Empire this year. And in the 300m hurdles - the event in which he finished as NBL Runner-Up in 2016, he ran 41.6 to outdistance second by nearly 1.5 seconds. Only two other Empire athletes have broken 42 this year. Thanks to his triple-duty, Casa Grande won a narrow 65-61 win over Santa Rosa. The NBL finals, both individually and for teams, is going to be exciting!
Week Five
Luca Mazzanti, Santa Rosa, senior
Competing the 1,600m/3,200m double is never an easy task, but when it takes place in windy and rainy weather it's all the more rough. But Mother Nature couldn't stop Mazzanti, who convincingly won the both distance events at the Santa Rosa Twilight Invitational. First off was the 1,600m, where he shattered the Meet Record with a blistering last lap, crossing the line in 4:16.96. That time moves him to 18th on the all-time Empire list, an impressive achievement given the win and 3+second margin of victory. Less than two hours later, Mazzanti came back in the 3,200m, where he patiently waited for 6 laps before blowing away the field in the last 800m. His 9:39.26 was good enough to win by over 6 seconds, and is the fastest time run in the Empire this year. Currently, that time ranks him 7th in the North Coast Section, and his 1,600m mark is leading the NCS by nearly 3 seconds. We can only expect that times will fall come the post-season, and with that a shot at the State Championships.
Rylee Bowen, Sonoma Academy, junior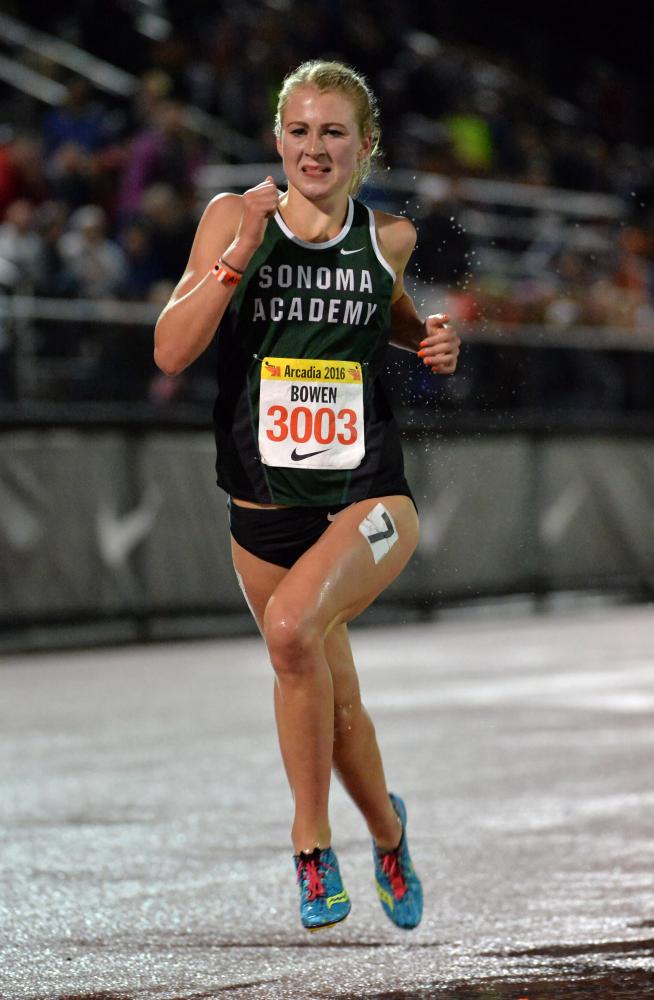 Competing in the nationally prestigious Arcadia Invitational, Bowen finished a strong third in the Invitational Mile, clocking a huge season's best of 4:48.92. Already the second fastest in Empire History, this mark gives Bowen a fourth performance in the Empire top-15. She's nearly 20 seconds faster than any other girl in the Redwood Empire this year, and puts her second on the state list for the mile/1,600m. She'll next be competing at another national caliber invitational, the Mt. SAC Relays, in the 800m and 1,600m, and then will likely turn her attention to the post-season. But no matter how fast she runs, Bowen always makes sure to keep it fun!
Week Four
Amani Baker, Maria Carrillo, senior
Already one of the fastest sprinters in Redwood Empire History, Baker helped bring some of her Puma teammates into history at the Stanford Invite. Competing against some of the top teams in California, Baker anchored her 4x100m relay team to a blistering 49.24 to win their heat. That time shattered the MCHS school record and put the team at #2 in the history of the Redwood Empire. While they couldn't go quite as fast in the final, Baker's squad still clocked 49.71, which would have been a top-20 time in it's own right.
Individually, Baker also impressed in the Long Jump and 100m. While just missing the 18-foot barrier, her 17'11.5" is the 10th furthest jump in Empire History (and the third wind-legal). It also broke the MCHS school record by three inches. Her 12.58 would have moved her to 10th all-time wind-legal in the 100m if she weren't already 4th. These marks placed her 7th in the Long Jump and 15th in the 100m for the prestigious Stanford Invite, making it all the more clear that Baker will be a force to be reconned with in the post-season, be it on a relay, in the field, or individually on the track.
Sakea Rokotuiviwa, Montgomery, junior
Moving schools can be tough. Moving halfway across the planet has got to be real tough. But that hasn't stopped Rokotuiviwa, who moved over 5,000m miles from Fiji to attend Montgomery HS this year. And he's making the most of it.
Competing at the Castleberry Invite, Rokotuiviwa clocked 10.98 in the 100m to became the first boy in 2017 to break the 11-second barrier. Less than 20 athletes have clocked a FAT sub-11 in the history of the Empire; not bad for his first month in a Viking uniform! For good measure, Rokotuiviwa also jumped 18'1" for 8th in the long jump.
With a training partner in Week 1 Athlete of the Week Jaymes Tischbern, expect big, big things from Rokotuiviwa as the season progresses. And don't be surprised to see the Vikings' relay notch some fast times too!
Week Three
Isaiah Smith, Maria Carrillo, senior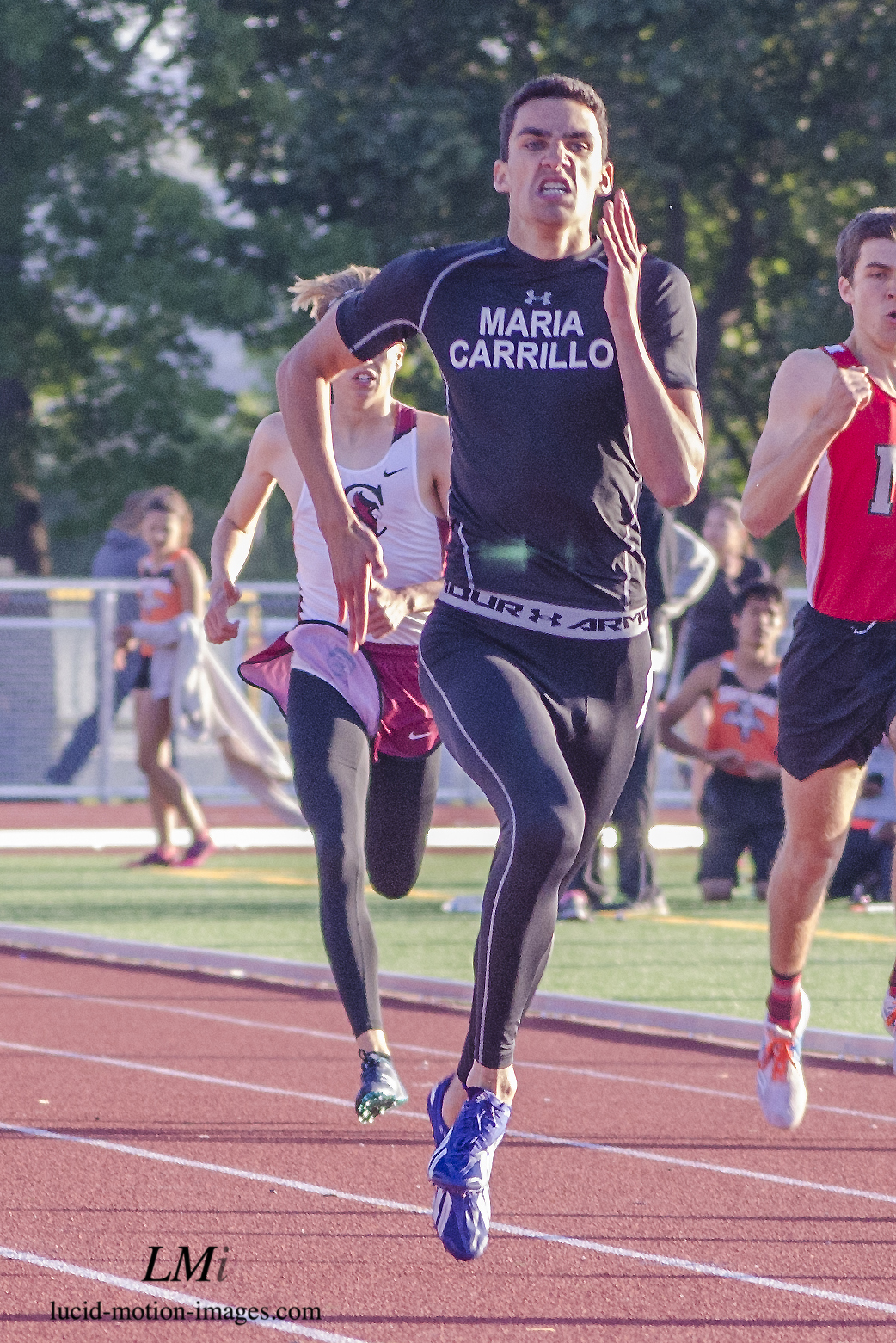 Last year's NBL 400m Champion looks well on his way to retaining his title. Competing at the Eddie Hart Invitational in Pittsburg, Smith blazed to a 49.89 clocking in the 400m, winning by well over a second. If he weren't already the 15th fastest 400m runner in Empire History, that mark would move him into the top 30, quite the accomplishment for such an early-season meet. He now leads the yearly Empire list by nearly 3 seconds, and seems well on his way to moving up into the top-10 all-time. And if his individual exploits weren't enough, Smith ran a leg on the Pumas' 2nd-place 4x400m relay team. Their time of 3:28.10 leads the Empire this year by over 12 seconds. With such a solid sprint crew behind him, expect Smith to take home many more post-season medals before his prep career is done.
Gabby Peterson, Healdsburg, sophomore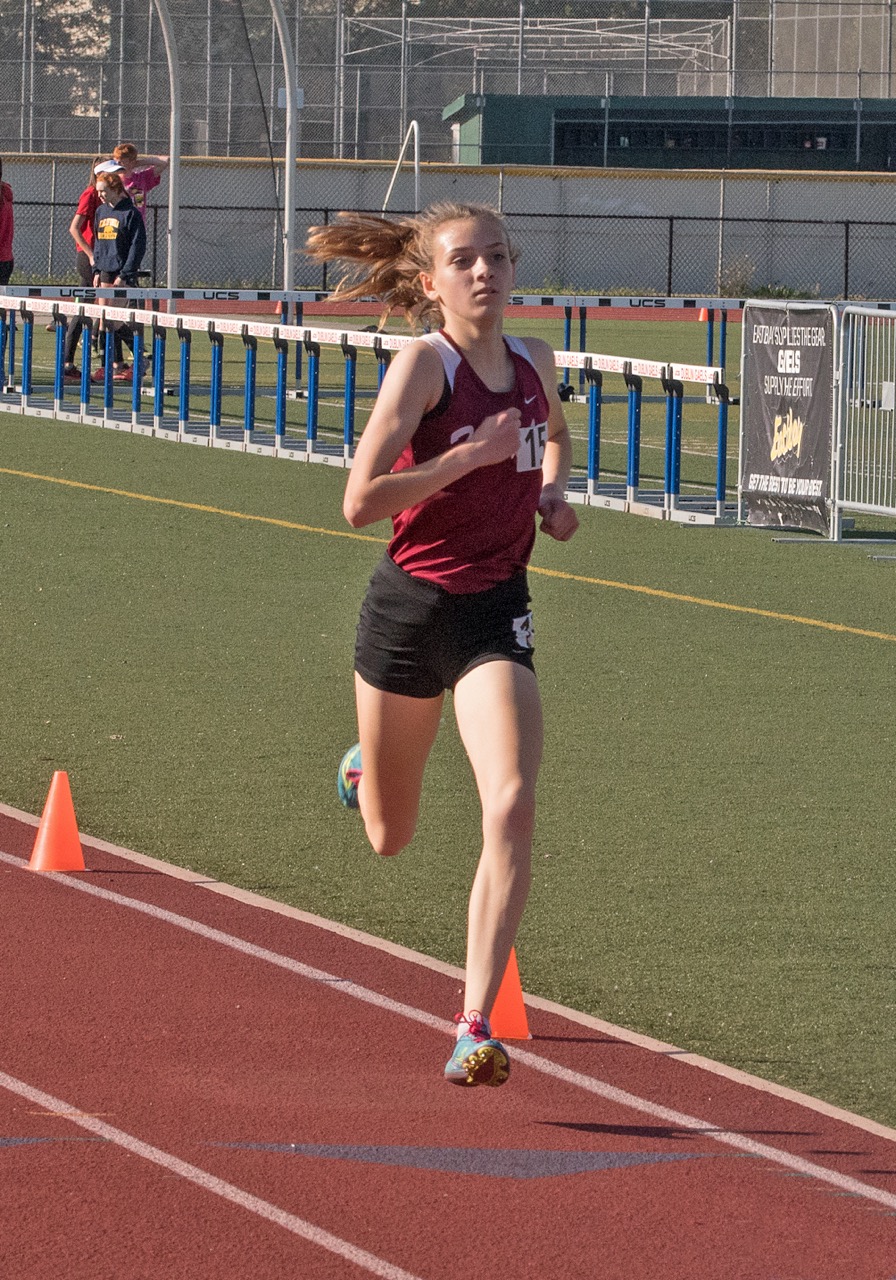 Finishing 10th overall out of over 150 runners in the 3,200m, Peterson had quite the performance at the Dublin Distance Fiesta. Her time of 10:59.75 didn't just shatter her PR by nearly 10 seconds, it set a new Healdsburg HS school record and vaulted her into the Top-20 All-Time for the Redwood Empire. The school record that she broke was held by none other than the late great Sarah Sumpter (HS State Champion, NCAA Division 1 Conference Champion, cancer fighter). She now sits just one spot behind hometown Olympian Kim Conley on the all-time 3,200m list, and is three spots ahead of now-professional marathoner Alia Gray. It's no exaggeration to say that Peterson is turning herself into one of a long line of standout distance runners from the Redwood Empire. And her sophomore season has barely begun.
Week Two
Habibah Sanusi, Maria Carrillo, junior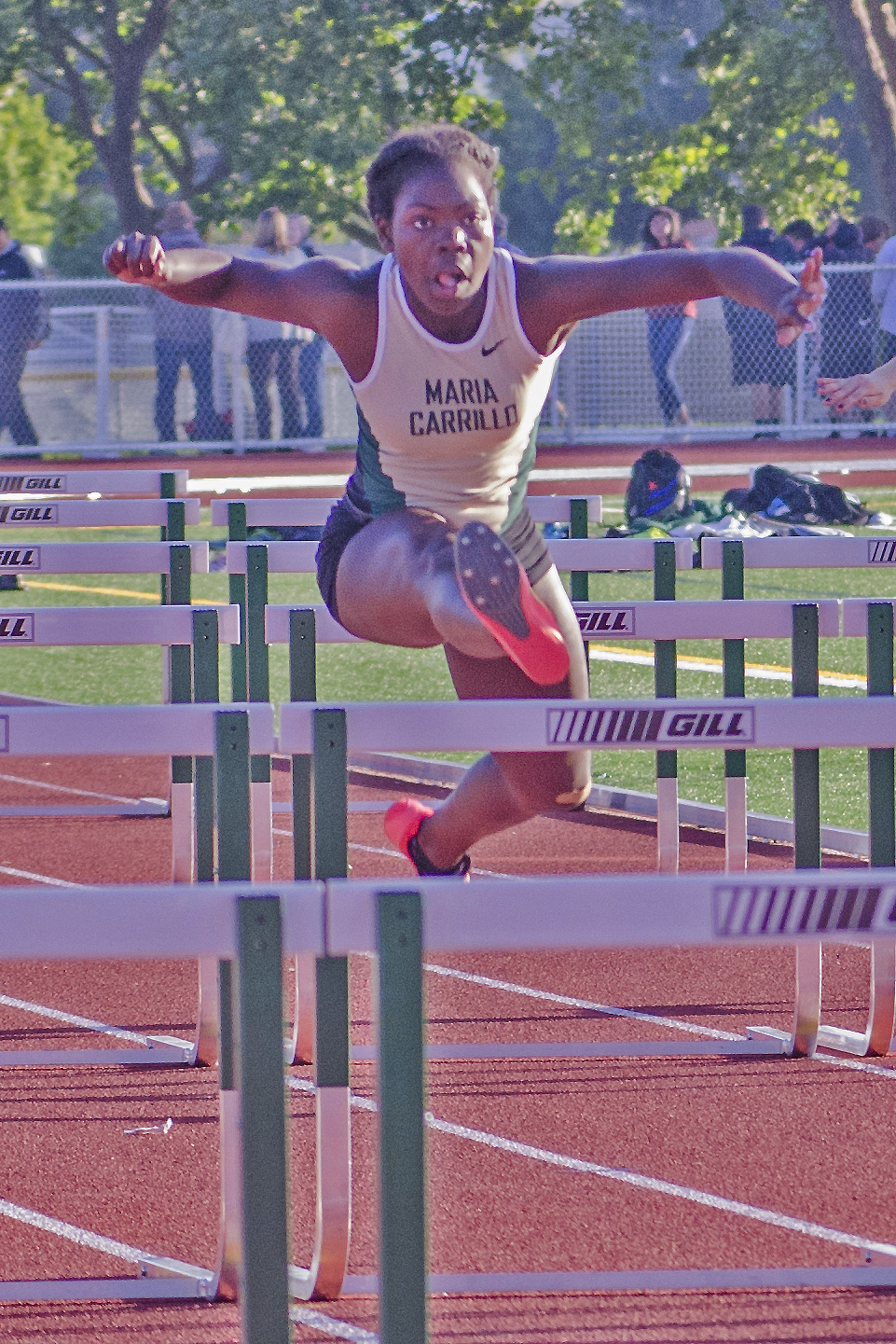 Continuing a multi-year hurdle rivalry with Windsor's Maddie Call, Maria Carrillo's Sanusi came out on top at the Windsor Relays. Sanusi clocked 16.25 for the 100m Hurdles to win by just over a quarter-second, and unsurprisingly run the fastest time in the Empire this year. That performance, while still off her best from last year (a wind-legal 15.50), shows that she'll be a real threat to take the NBL crown this year. For good measure she also raced the 200m, taking a solid second to week one AotW Carter in 27.67.
Thomas Thomsen, Montgomery, senior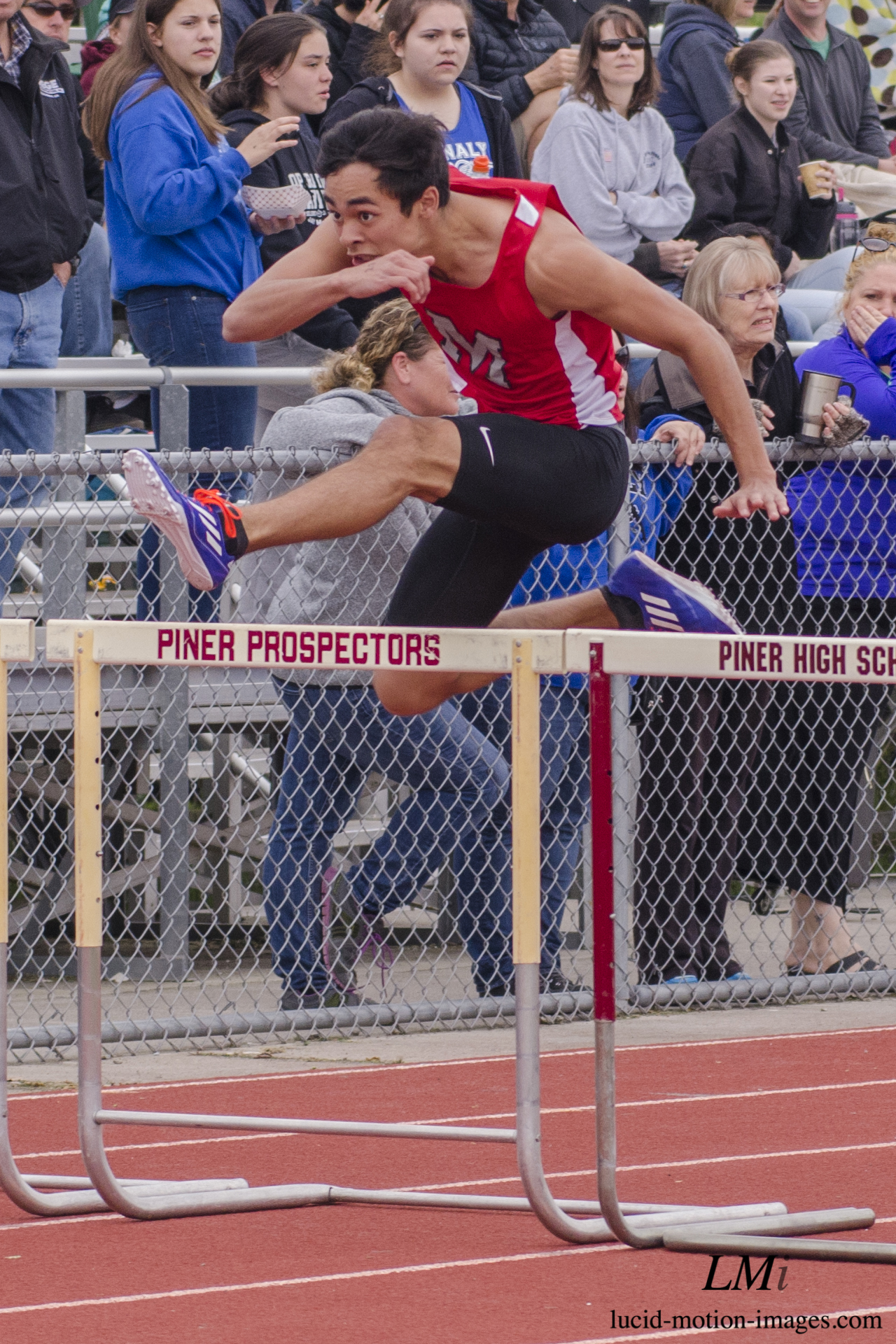 Reigning NBL High Hurdle Champ Thomsen continued his 2017 season in style, capturing the event at the Windsor Relays. There he blitzed a wind-legal 15.34 to better his PR and moved to 13th on the All-Time list. He also took a solid second in the 300m Hurdles, and competed in the 100m as well.
Week One
Jaymes Tischbern, Montgomery, junior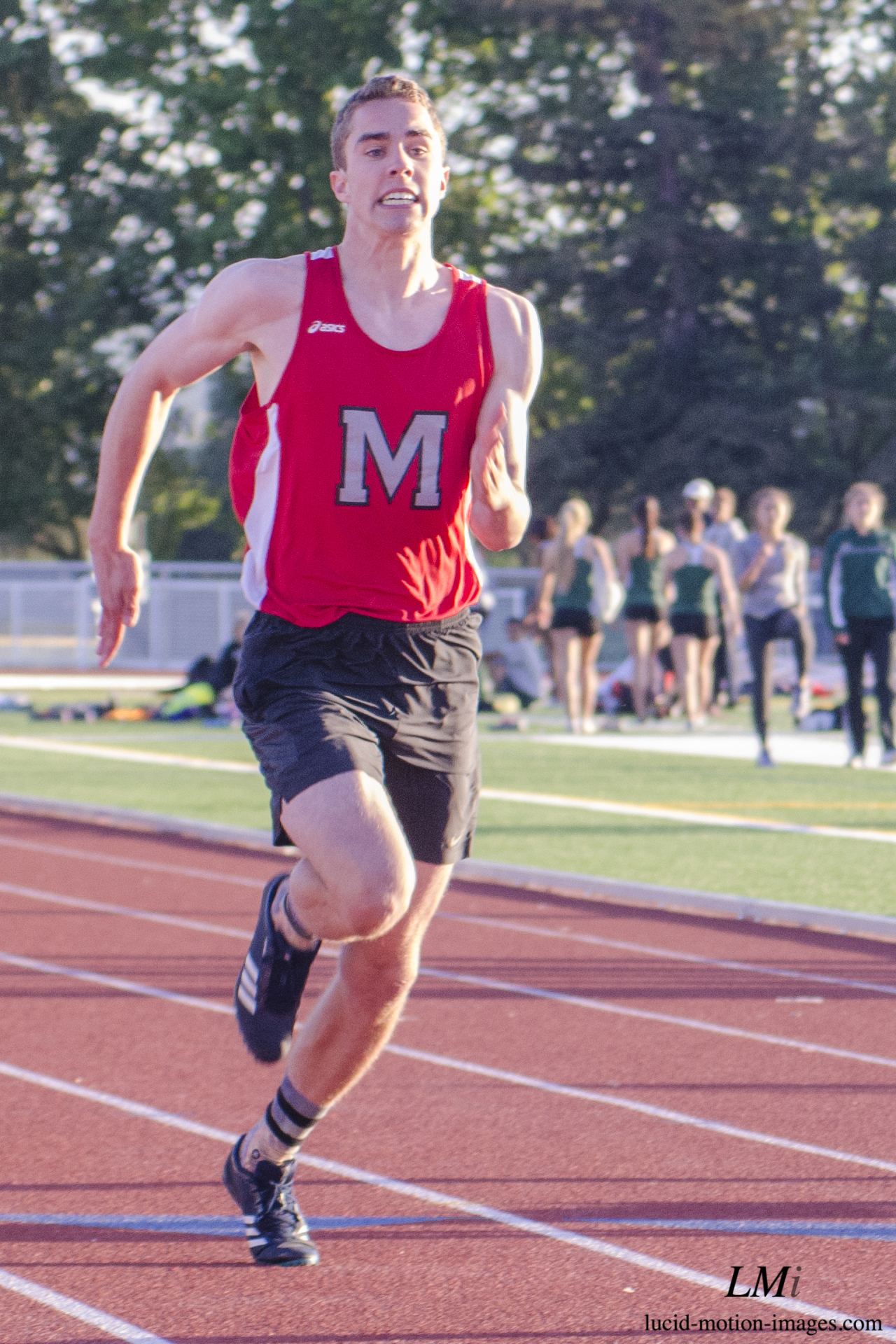 If the 2016 double NBL sprint silver medalist was looking to step to the top of the podium this year, he certainly started 2017 off on the right foot. In wet, blustery conditions at the Big Cat Invite, he stormed to a huge win in the 100m, clocking 11.00 (wind-aided with a +2.4 m/s tailwind) to win by over a third of a second. That moves him into the top 20 All-Time for FAT 100m's in the history of the Redwood Empire. Tischbern also did relay duty, anchoring his Vikings to a third-place finish in the 4x100m. All in all, he had a very solid start to the season, and what could become one of the better Empire sprint years in quite some time.
Kirsten Carter, Santa Rosa, junior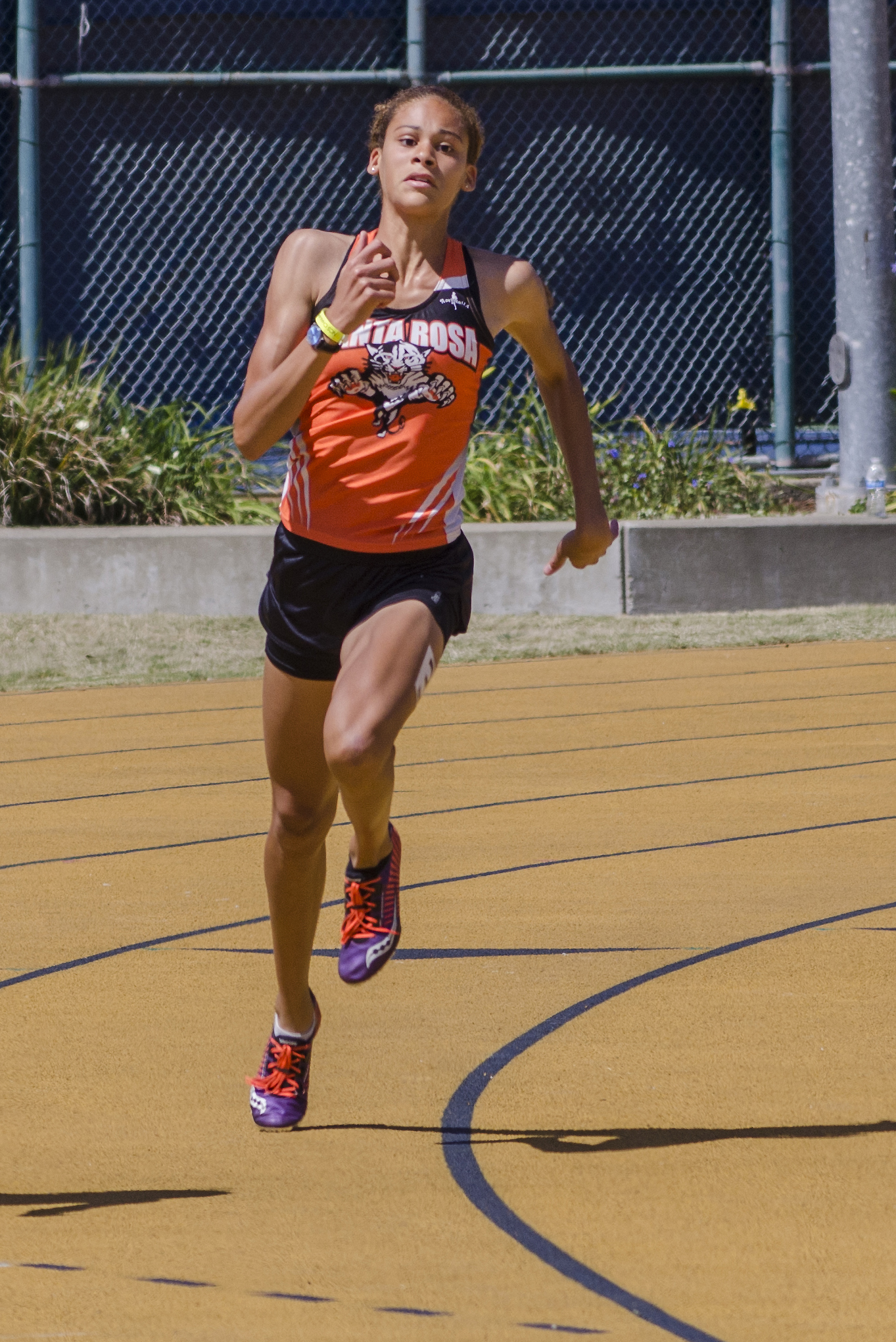 As the new Redwood Empire Record-Holder at 100m, should come as no surprise that Carter started her 2017 season in dominating fashion. She handily won the 100m at the Big Cat Invite, clocking 12.23 to win by a ridiculous half-second. That time is the 9th fastest ever run in the Empire, with only three girls not named Carter ever having gone faster. She also won the 200m by over a second, clocking 25.56 (though wind-aided with a +2.8 m/s tailwind). For good measure, she won the Long Jump by over a foot, soaring 17'8", Just as the last two years, Carter is an athlete to really keep an eye on this track season; even more big things are coming in 2017!
If you see your name please stop by the store to pick up your shirt! or contact us and we will do our best to get it to you.
Athletes of the Week are picked solely by the Heart and Sole Staff, but we greatly value input from local COACHES. If any coach from the Empire has an athlete they wish to nominate, please contact us.